Wanna discuss your event?  Please fill out the form below and tell me a bit about your event.  I am available for most celebration types.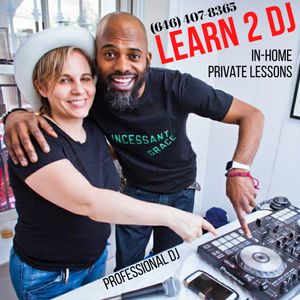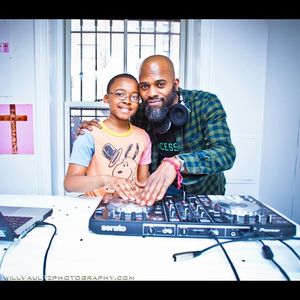 Have You Ever Wanted to learn how to DJ? I can privately teach you many of the skills needed to get started. Gain the skills and confidence to DJ.
Training includes:
Introduction to the equipment/terminology... Learn to Setup the equipment... Learn how to Beatmatch... Learn how to build a music library... **Music Theory... (how to select music that works for a crowd)

Equipment can be provided if needed.
At the end of 5 sessions, students will showcase these new skills and perform a 5 song mini mix to advance to the next level of training.
What is your process for working with a new customer?        
My process consists of meeting (in person, when possible) to discuss the vision for the event. From there, I would provide feedback and I would explain how I would best service their event. Lastly, I would render a breakdown of the services and equipment to be provided and the costs.
My Background?
I have been spinning for about 15 years.  I've spun at birthday parties corporate events, celebrity events, car shows, schools, clubs, lounges, hotels, weddings, block parties, restaurants, bbqs, fitness centers, private events, large and intimate in size. In addition to that, I've done events and weddings with The DJ Scratch Academy & Scratch Weddings. 
How did I get started?
Back when I promoted events, the DJ I booked canceled at the last minute.  I had a packed house so I jumped in, hooking my laptop up to the system via Atom Mix, and I never looked back.
Who are my clients?
I've worked with corporate companies, weddings industry professionals, restaurant and lounges, schools and colleges, kids parties, in-store events, galleries, celebrity events and LGBT events... You name it, and I've probably have spun at that type of function.
Do I create mixes and playlists?
Yes.  Several styles.  Let me know what you have in mind, and I'll provide an estimate. Also, check my mixes & playlists section.
What do I spin with?
Because my moniker is "Digital", I embrace all technology and digital components so I currently spin with the Pioneer DDJ-Rev7, Numark NS6ii or any Pioneer controllers.  I can also use Pioneer CDJs 2000 and occasionally I'll spin on turntables with serato DVS. 
Bio
Growing up, Nessdigital always wanted to play the sax and the piano because he wanted to be like two of his favorite jazz musicians, John Coltrane and Thelonious Monk. Although he never learned to play either instrument, he did the next best thing...He became a Dj!
Nessdigital sets are crafted to get folks up and going and he spin music that can connect with a body of folks. He spins only the best House, funk, rock, soul, r&b, house, Latin, reggae, World, lounge, jazz and hip-hop tracks in his set.
Since then, he's had an opportunity to spin for the following personalities:
Fantasia
Whoopi Goldberg
Tamara Tunie
Carrie Mae Weems
D.A. Cy Vance NYC
Sidra Smith
Judge Karen Mills
Charlie Rangel
Rev Micheal Waldron
Fred Hampton