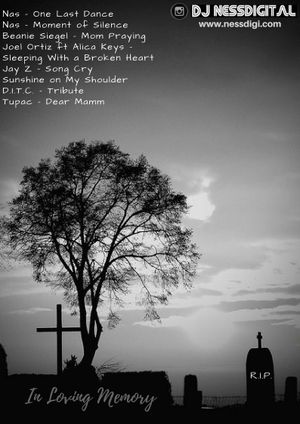 If you ever lost someone you love, then you understand how tough coping can be, but the right songs can actually provide some relief.  This mini mix is a reflective compilation, not a sappy one... It features some of Hip-Hop great MC's.  So If you or someone you know is mourning the loss of someone special, then press play and reconnect. 
I made this when Mrs. G passed. One of the finest people I've ever met.
In Loving Memory, R.I.P Mix
Nas - One Last Dance 
Nas - Moment of Silence 
Beanie Siegel - Mom Praying 
Joel Ortiz ft Alica Keys - Sleeping With a Broken Heart 
Jay Z - Song Cry 
Sunshine on My Shoulder 
D.I.T.C. - Tribute 
Tupac - Dear Mamm
R.I.P. 
Feel free to share this link. Donation are welcomed.